WHY KERALA TAKES PRIDE IN CALLING ITSELF "GOD'S OWN COUNTRY"

This is my native state, but from my young days I was abroad and am now settled at Chennai in South India. Here are real-time pictures of the scenic backwaters and lakeside resorts of Kerala. You decide if the title of this write-up is justified by viewing the pictures. Yes ladies and gentlemen ---This is a part of your great India.
Calling on 2 of my buddies Tom and Dr Joe - In my next Kerala trip which of these places should we go to????

Have a nice day friends.
TONY CHACKO
(P.S. While I take pride in being a Keralian I just can't help giving vent to an expression on the flip side of my native state. Yes indeed God has given it the best resources, scenic landscapes with the best fertile lands of India. So though the state markets itself as God's own country, it is unfortunately run by the devil's army of lazy workers - because it is a real paradise for worker unions who are experts in jeopardising any large developmental projects.The honest fact is that worker productivity is the least in the state, BUT when these Keralians go to work overseas or in other states of India, they are the most resourceful and hard working people for those places. I am not going to get into any argument with any unreasonable patriot of Kerala. Just think of one basic need in modern development. Despite any government administering the state, there is absolutely no organised plan for good roadways. Any road that is built is always eroded by the year's heavy monsoons)

God's Own Country, is a phrase that is used to refer to several places such as the United States, New Zealand, Kerala (India) and Yorkshire. Abbreviated to Godzone or less often Godzown, the term has been used for more than 100 years by New Zealanders to describe their homeland. It has subsequently been adopted by some other countries, notably Australia, but this has declined as the phrase has become increasingly associated with Kerala, India. In recent years the phrase has been adopted as a slogan by the tourism department of the Kerala state government in India as people started to explore more places outside the traditional tourist spots
The Kerala backwaters are a chain of brackish lagoons and lakes lying parallel to the Arabian Sea coast (known as the Malabar Coast) of Kerala state in southern India. The network includes five large lakes linked by canals, both manmade and natural, fed by 38 rivers, and extending virtually half the length of Kerala state. The backwaters were formed by the action of waves and shore currents creating low barrier islands across the mouths of the many rivers flowing down from the Western Ghats range.
The Kerala Backwaters are a network of interconnected canals, rivers, lakes and inlets, a labyrinthine system formed by more than 900 km of waterways, and sometimes compared to the American Bayou. In the midst of this landscape there are a number of towns and cities, which serve as the starting and end points of backwater cruises. National Waterway No. 3 from Kollam to Kottapuram, covers a distance of 205 km and runs almost parallel to the coast line of southern Kerala facilitating both cargo movement and backwater tourism.
The backwaters have a unique ecosystem - freshwater from the rivers meets the seawater from the Arabian Sea. In certain areas, such as the Vembanad Kayal, where a barrage has been built near Kumarakom, salt water from the sea is prevented from entering the deep inside, keeping the fresh water intact. Such fresh water is extensively used for irrigation purposes.
Many unique species of aquatic life including crabs, frogs and mudskippers, water birds such as terns, kingfishers, darters and cormorants, and animals such as otters and turtles live in and alongside the backwaters. Palm trees, pandanus shrubs, various leafy plants and bushes grow alongside the backwaters, providing a green hue to the surrounding landscape.
Vembanad Kayal is the largest of the lakes, covering an area of 200 km², and bordered by Alappuzha (Alleppey), Kottayam, and Ernakulam districts. The port of Kochi (Cochin) is located at the lake's outlet to the Arabian Sea. Alleppey, "Venice of the East", has a large network of canals that meander through the town. Vembanad is India's longest lake.
Tourist's Map Of Kerala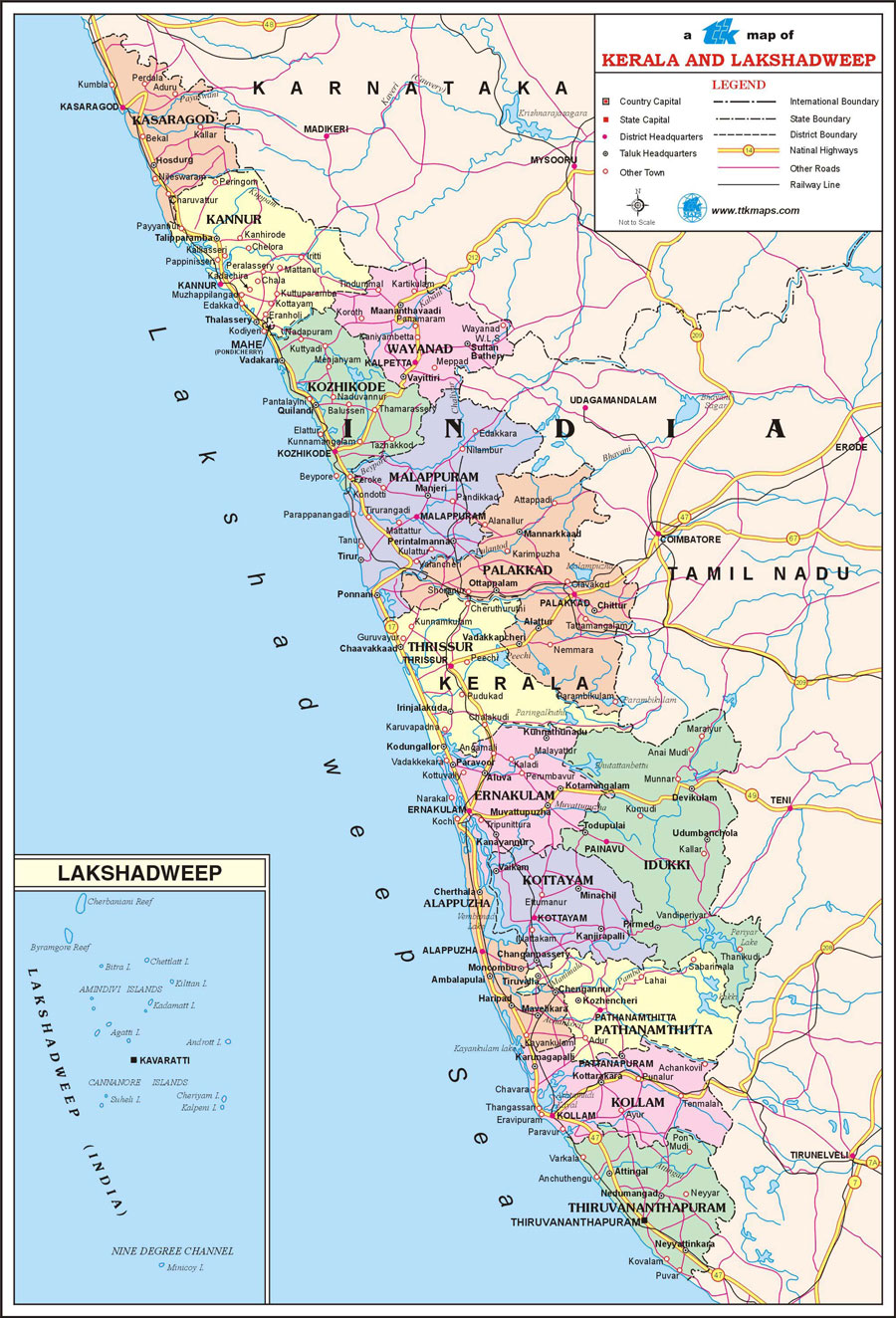 The heavenly joy of going along the Backwaters of Kerala in a Houseboat.

Kumarakom Lake Resort
Heritage Lakeview Villas
Lemon Tree Resort, Vembanad Lake, Alleppey
Taj Garden Retreat, Varkala

Cocobay Resort Kumarakom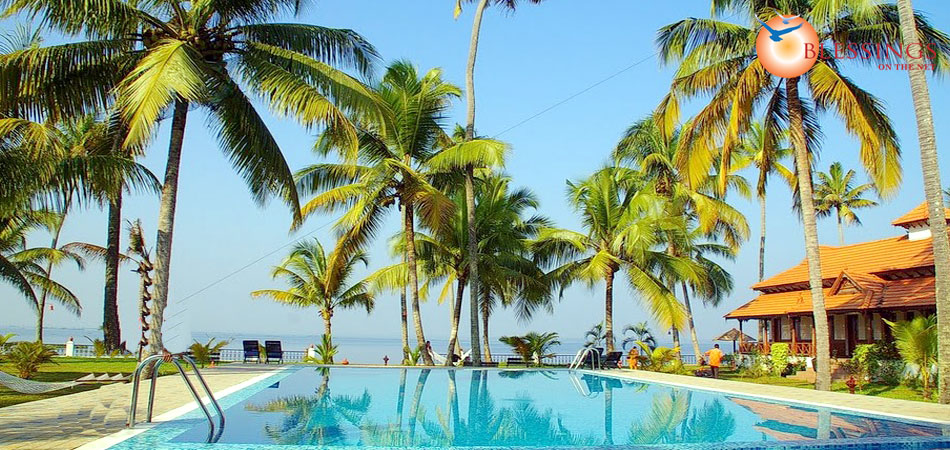 Lakesong Resort Kumarakom
The Ramada Caravela Beach Resort, Cochin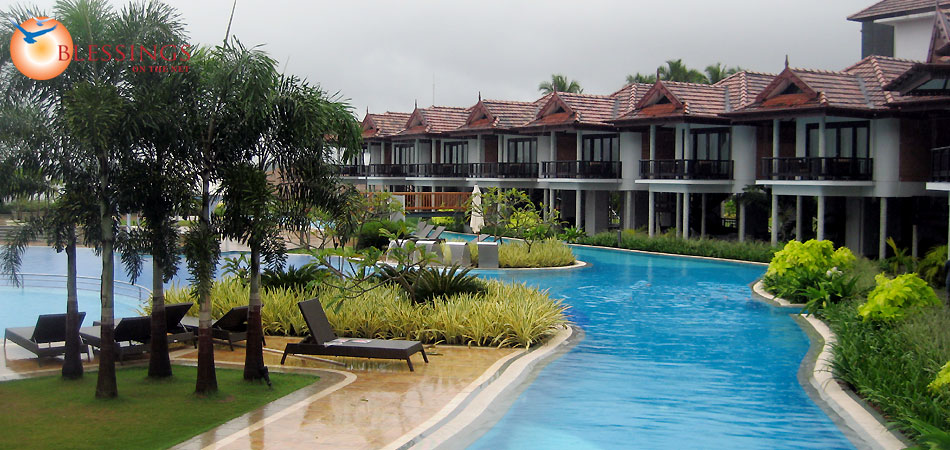 Lake Palace Resort, Alleppey
Vivanta Bekal, Taj Resort in Kerala.
71 stylish villas and rooms with Kettuvallam house boat motifs woven in Balinese design and laterite lined exteriors spread over landscaped gardens which embrace the backwaters and kiss the Kappil beach shore.
The Zuri Kumarakom Resort
Kalathil Lake Resort at Kumarakom

The Backwater Heritage Resort
The floating cottages of Poovar Island Resort which is 20 km from Thiruvananthapuram
Munnar a real heavenly Kerala village town of hills , valleys and river lakes ( They say Munnar is the ultimate place for experiencing the true essence of Kerala)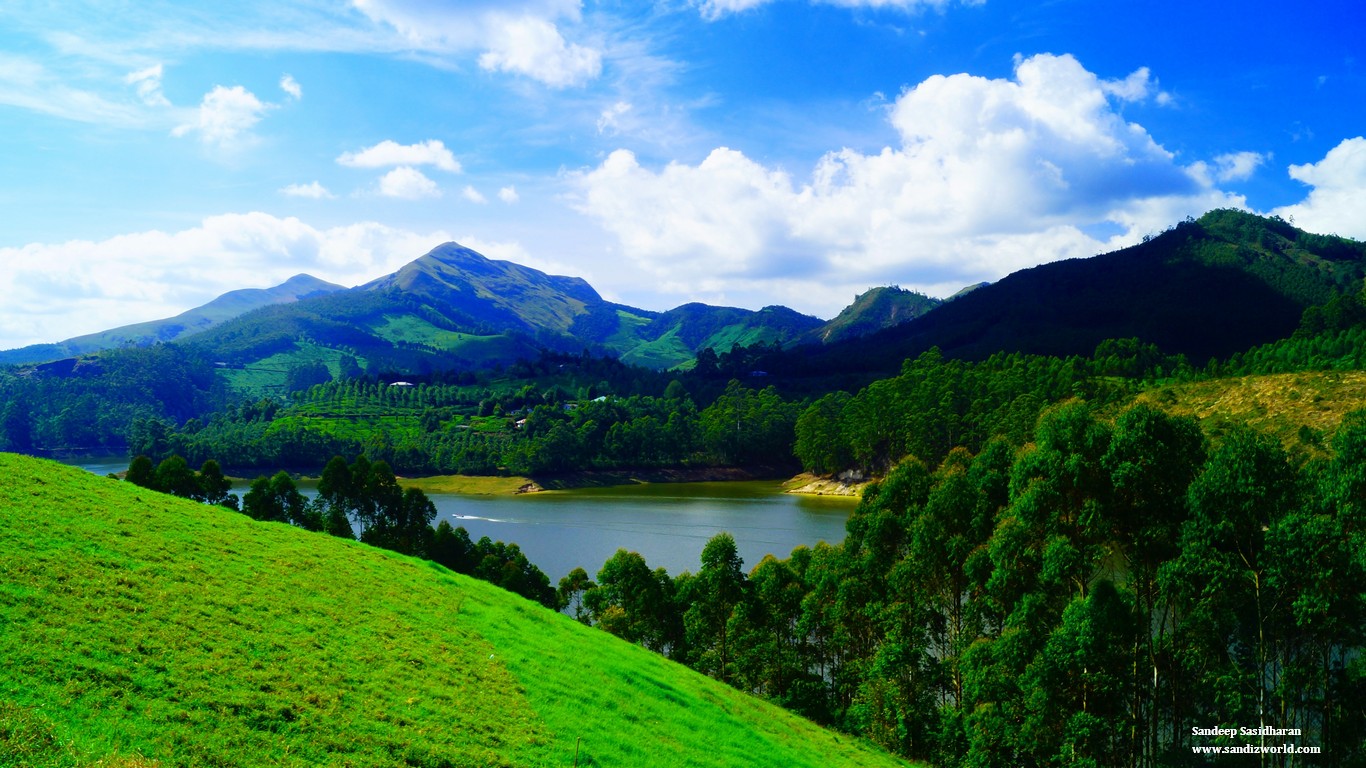 Would you like to wander through the fantastic hilly tea estates of Munnar in Kerala.

Camp Noel Resort at Munnar
Some Tree Houses at Munnar in Kerala
The Raviz Resort in Kollam
The Leela Kempenski Beach Resort, Kovalam near Thiruvananthapram. It is uniquely built on a rocky cliff with every room overlooking the Arabian Sea.
The New Idukki Dam of Kerala
The famous Mullaiperiyar Dam of Munnar in Kerala
The Athirapally Waterfalls (called the Niagara of India) near Thrissur in Kerala.
The Awesome Snake Boat Race at Vembanad Lake near Alleppey held in mid-August every year.
--
You received this message because you are subscribed to the Google Groups "Keep_Mailing" group.
To unsubscribe from this group and stop receiving emails from it, send an email to
keep_mailing+unsubscribe@googlegroups.com
.
To post to this group, send email to
keep_mailing@googlegroups.com
.
For more options, visit
https://groups.google.com/d/optout
.