Patna/Gaya: 
 The Bihar Board Class 12 examination results have thrown up some happy moments, with the Science and Commerce stream toppers coming from very poor backgrounds.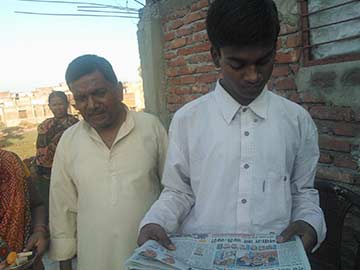 In the last 24 hours, since the class 12 Bihar Board results were declared, Science stream topper Ravish Kumar and his parents have posed many times for the sweet eating moment, to different media crews, but haven't run out of patience. 
Ravish is from a poor background. His father is the sole breadwinner for a family of four, and has been a gas cylinder vendor since 2004. This exam, Ravish scored 425 marks out of 500, putting in 12 to 13 hours of studying, sometimes without electricity, at their two-room house in Danapur, close to Patna.
"I feel very happy. Used to read the papers and see that many people from small and poor families could top and I used to wonder if I would," he says. 
The next stop, Ravish says, will be Indian Institute of Technology (IIT), and he's already started coaching class in Patna. More good news, his coaching institute has returned his yearly fees and promised a stipend too. 
Ravish's father Ashok Kumar Singh says, "We never had to ask him to study. I always used to say to him don't study so much." 
For Ravish's mother Pinki Devi, there were added concerns. "I was very worried he would not eat properly. But I am very happy if his choice is IIT," she says with pride. 
Ravish is not the only student with a humble background who has done exceedingly well in the Class 12 exam. In another part of the state, the son of a generator operator has topped the Commerce stream of the Bihar Board. 
In Gaya, the celebrations haven't ended at the home of Avinash Kumar, the commerce stream topper. Avinash's father is a generator operator in town but the adversity at home, and the lack of resources, never dimmed the boy's spirit. He says, "My parents have supported me all through. Have gone through a lot of problems because of me. I wanted to pay them back."
--
You received this message because you are subscribed to the Google Groups "Keep_Mailing" group.
To unsubscribe from this group and stop receiving emails from it, send an email to
keep_mailing+unsubscribe@googlegroups.com
.
To post to this group, send email to
keep_mailing@googlegroups.com
.
For more options, visit
https://groups.google.com/d/optout
.