Very nice................
Amal Kumar
Nagpur.
On Tuesday, 31 May 2016 5:31 AM, Proud Son <coolkis@msn.com> wrote:

Top 14 Things Switzerland is Famous for
Amidst the lakes, rivers, mountains and the aesthetic beauty of nature is situated Europe's most beautiful country, Switzerland. The country is bound by the diversity of language and religions. Switzerland is the only country with four national languages- German, French, Italian and Rumantsch. This is one of those countries where one can go in any season and enjoy to the best.
It is not only the natural beauty for what Switzerland is known. There are numerous things related to Switzerland that attract people like Swiss watches, music festivals, cheese and chocolates to name some. Switzerland has interesting history and is also known for world welfare organizations that mostly either started in Switzerland or have their Headquarters there.
Following is a list of 12 things that Switzerland is famous for-
1. War History
Switzerland is famous for its no-interference policy. They have stood as a neutral nation for the longest time. Interesting fact- Switzerland has not been at war since 1505. Even in the World Wars, they provided a safe passage for both the warring sides. This neutral stand has appreciably helped Switzerland in keeping a stable economy in all times.
2. Red Cross
The International Committee of Red Cross (ICRC), for protecting and assisting victims of war was first established in Geneva in 1863 by the effects of a Swiss entrepreneur Henry Dunant's book A Memoire of Solferino. Since then the Red Cross Society has been working for the welfare of the war victims worldwide.
3. Watches
It is a well known fact that the Swiss Watches dominate the Watchmaking industry. These watches are an excellent combination of both aesthetics and technology. Anyone's personality shoots up to a dozen measures by these watches. Swiss Watches are known for their accuracy and wide range. Most of the well known watch brands like Tag Heuer, Rolex, Rado, Omega, etc are all from Switzerland.
4. Swiss Chocolates
If you tell me you don't like Swiss chocolate, I would seriously believe you haven't tasted it yet. Switzerland is famous for the art of chocolate making. They have world's best milk chocolate made of finest milk and cream. Once tasted, it is hard to resist this delicious to the core Swiss Chocolate. The most famous of it's choclates is the "Toblerone".

Toblerone
Toblerone
is a Swiss chocolate bar brand owned by US confectionery company Mondelēz International, Inc., formerly Kraft Foods, which acquired the product from former owner Jacobs Suchard in 1990. It is produced in Bern and in early 2000 was being produced in the United States by Ferrara Pan candy company in Bellwood, Illinois. Toblerone is well known for its distinctive triangular prism shape.
Seven billion chunks of Toblerone are made each year, all in Bern.
5. Cheese
Switzerland is the place where you can find the finest quality of cheese. It is home to about 450 varieties of cheese. Did you know there are even so many varieties of cheese? In Switzerland, you do not have to go to a specific place to get their specialty cheese. It is everywhere. Also, in America, a special type of cheese is called Swiss cheese because it resembles Switzerland's Emmental cheese but Swiss people believe all the 450 varieties of cheese made in Switzerland are Swiss Cheese. Well, because that is made in Switzerland, so it is.
6. Banks

-In Switzerland, there are more banks then dentists
Swiss banks are famous for their privacy policy. They do not disclose the account holder's name even to the government except at the extreme cases like criminal or terrorist activities. Contrary to the popular belief, the Swiss banks are not only for tax evasion and money laundering by politicians, criminals, etc but they are also popular among the commoners. With the best banking strategy and most stable economy in the past years, Switzerland has emerged as the best option for banking service. Banking in Switzerland is regulated by the Swiss Financial Market Supervisory Authority (FINMA), which derives its authority from a series of federal statutes. The country's tradition of bank secrecy, which dates to the Middle Ages, was first codified in the Federal Act on Banks and Savings Banks, colloquially known as the Banking Law of 1934. The regime of bank secrecy that Swiss banks are famous for came under pressure in the wake of the UBS tax evasion scandal and the 1934 banking law was amended in 2009 to limit tax evasion by non-Swiss bank clients.
In 2011, banks represented 59.4% of the total value added of the Swiss financial sector, totalling CHF 35.0 billion representing 6.2% of the country's GDP. UBS and Credit Suisse, the two largest banks in Switzerland, were ranked globally at #19 and #25 among banks, with assets of approximately US$1.375 trillion and US$1.090 trillion, respectively.
As of 11 October 2008, the banking industry in Switzerland has an average leverage ratio (assets/net worth) of 29 to 1, while the industry's short-term liabilities are equal to 260 percent of the Swiss GDP or 1,273 percent of the Swiss national debt.
7. Swiss Alps
Also known as Central Alps, is the region of Alpine mountain ranges that lie in Switzerland. Around 65% of Switzerland is covered by Alps, one of the most beautiful mountain ranges. No doubt, Switzerland is the place where one can find the highest peaks and glaciers. Skiing and hiking are way of Swiss life. Some of the famous Alpine Mountains in Switzerland are the Matterhorn, the Eiger and the Jungfrau. below is a pic of the Swiss Alp (Mountain), the highest peak known as Matterhorn.
8. Lakes
Switzerland is home to a large number of small and large lakes. There is a scenic beauty in Switzerland with all the lakes, mountain ranges and meadows. One can easily fall in love with the beauty of Lake Geneva, Lake Zurich and Lake Neuchatel. These crystal clear mountain lakes make the world's best Lake views.
9. Music Festivals
Switzerland is famous for its music festivals ranging from Classical to rock. There is a music fest for every season in Switzerland.
Every August, The Rock Oz'Arènes festival takes place in the Roman amphitheatre in Avenches.
In addition to the Annual Classical Music Festival, summer sees various Rock and Pop open-air concerts that attract fans both from home and other countries.
Even Winter has open air rock concerts: the SnowpenAir on the Kleine Scheidegg in the Bernese Oberland.
10. Zurich
This most desirable city in the world is pride of Switzerland. According to some surveys it is the city with best quality of life in the world and the wealthiest city of Europe. This city is well known for luxurious shopping, lodging and cuisine. Founded by the Romans, Zurich lies in north central part of the country. Being the most popular city of the country it attracted many notable artists and writers in 19th and 20th century. Also, the Dada Movement is said to have been born in this city in 1916.
Zürich has 1224 fountains.

There's always a good supply of drinking water when you are on the go in Zurich – thanks to the numerous fountains.In Zurich, there is no need to look for a supermarket if you get thirsty, since you can simply quench your thirst at the nearest fountain. And that can never be far away, because Zurich has the most fountains of any city in the world with approx. 1,200 drinking water fountains.Many of the fountains are small-scale works of art with a fascinating history.


11. Dadaism
Dadaism was an art movement in Europe in earlier 20th century. Dada was born out of the reactions to the horrors of World War I. This International movement was begun by the poets and artists in Zurich's Cabaret Voltaire. Dada rejected reason and logic, prizing nonsense, irrationality and intuition. The anti-war logic was concentrated in visual arts, literature, poetry and other artistic mediums through rejection of prevailing standards in art through anti-cultural works.
12. CeRN
CERN, European Organization for Physics Research that lies near Geneva is World's largest Particle Physics Laboratory. Lying 100 meters below ground, CERN enables scientist from all over the world to study the structure of matter. World's most powerful particle accelerator, Large Hadron Collider (LHC) was created in 2008 to further the understanding of Big Bang and the beginning of Universe.
CERN was also the birth place of WWW (World Wide Web) in Nineteen Eighties.
13. "Largest Clock face in Europe"
St. Peter's Church (St. Peterskirche) located upon a hill and built on a site which has been a site for many former churches and temples has a clock tower which is said to have the largest clock face in Europe.
14. First ready made 'cup of soup' in the world is by Julius Maggi, in 1889
While this may have been invented by a Swiss man, Emmy hurry and send me

a cup of Mee-goreng as below.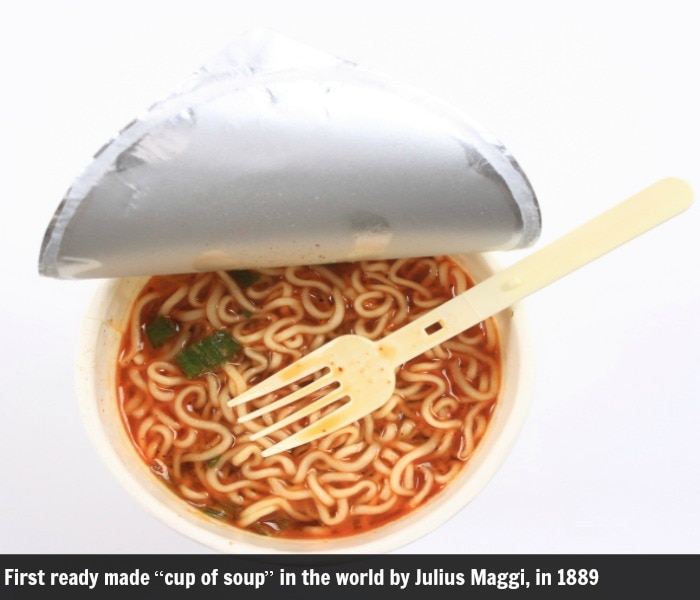 Here is a Swiss Song for signing off